Rocky Mountain Mantels
Bring your mantel to life
Do you have a fireplace that is plain, ordinary...mundane?
Does the shelf sit above a plain old boring board with maybe a couple of scrolls pasted onto it?
Your fireplace is supposed to be a cozy focal spot for your room. As well as bring warmth to your body it should also warm your senses.
Let us carve a beautiful cherry breast-board that will enhance the warmth and appeal of your fireplace. We'll design a Rocky Mountain themed mantel piece that will really make your cozy fireplace unique.
Here is a sample carving:
Deer Mantel
This 53" x 5" x 1.25" custom breastboard was applied to the front of the mantel shown
below.
In fact we made one large enough so that when cut, it would wrap around both sides
of the mantel shelf. In fact, this is that mantel before we cut it.

Mantel Before Mantel After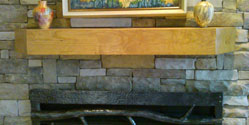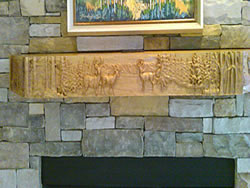 Pricing Guide
Mantel Dimensions and Pricing

| Dimensions | Wood Species | Base Price |
| --- | --- | --- |
| 48" x 6" x 1.25" | Oak | $300.00 |
| 48" x 6" x 1.25" | Maple | $325.00 |
| 48" x 6" x 1.25" | Cherry | $350.00 |
| 72" x 8" x 1.25" | Oak | $400.00 |
| 72" x 8" x 1.25" | Maple | $425.00 |
| 72" x 8" x 1.25" | Cherry | $450.00 |
| Other Sizes | Any Species | Ask for Quote |