Carved Doors and Panels
A sample of our work
The door/panel shown is carved into solid Eastern White Pine.
This one is custom sized to fit a 24 x 49.75 x 1.375 opening.
It is carved to look like a window panel and can be ordered either as a door or as a panel.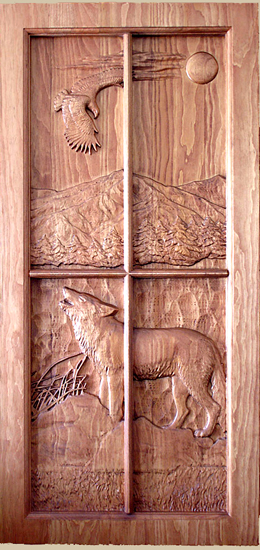 Custom Sizes/Scenes
The standard door is 36 x 82 x 1.25 We can adjust that to carve just about any size desired. The standard door panels are carved from solid blanks and fit to a rail and style.
We have many Rocky Mountain themed scenes that we can create especially for you.
Talk to our designers to come up with one that suits the decor of your home, cabin, or vacation spot.
Wood Choices
Our standard species include E. White Pine, Cherry, Maple and Oak.
If you have another preference, like Cedar or Red Wood or something more exotic just let us know and we'll try our best to get it, as long is we feel it can do justice to the carving. (Some wood species do not carve well)
Standard Species Pricing by Door Size

| Finish | 24x50 | 30x82 | 34x82 | 36x82 |
| --- | --- | --- | --- | --- |
| Stained/Varnished | $850.00 | $1375.00 | $1475.00 | $1600.00 |
| Varnish only | $825.00 | $1325.00 | $1425.00 | $1550.00 |
| Finish ready | $800.00 | $1195.00 | $1295.00 | $1475.00 |
Some Definitions
Stained/ Varnished and Varnish Only:
Stain color of your choice plus 4 coats of hand applied varnish.
Of course Varnish only means no stain but we still do 4 coats of varnish.
Finish Ready:
We sand all of our doors and panels in progressive grades from #100 down to #320 grit.